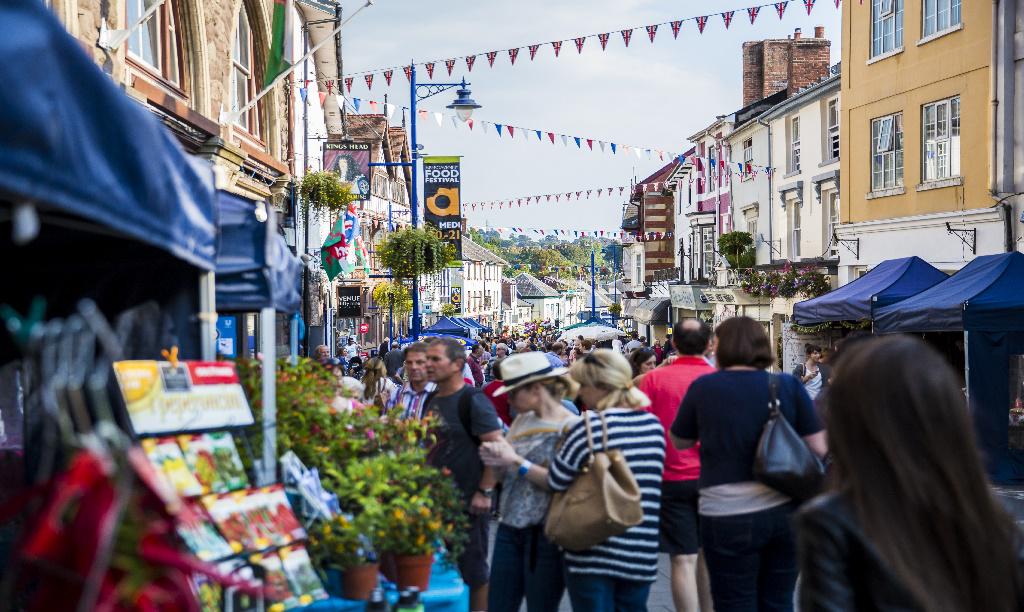 A slightly longer Week in Pictures this week given the fantastic Abergavenny Food Festival last weekend. So, where to start? Well, we only had the Saturday this year to enjoy the festival as we couldn't get there on Sunday. Turns out this was no bad thing as doing two days last year was exhausting, so we just made the most of the time we had.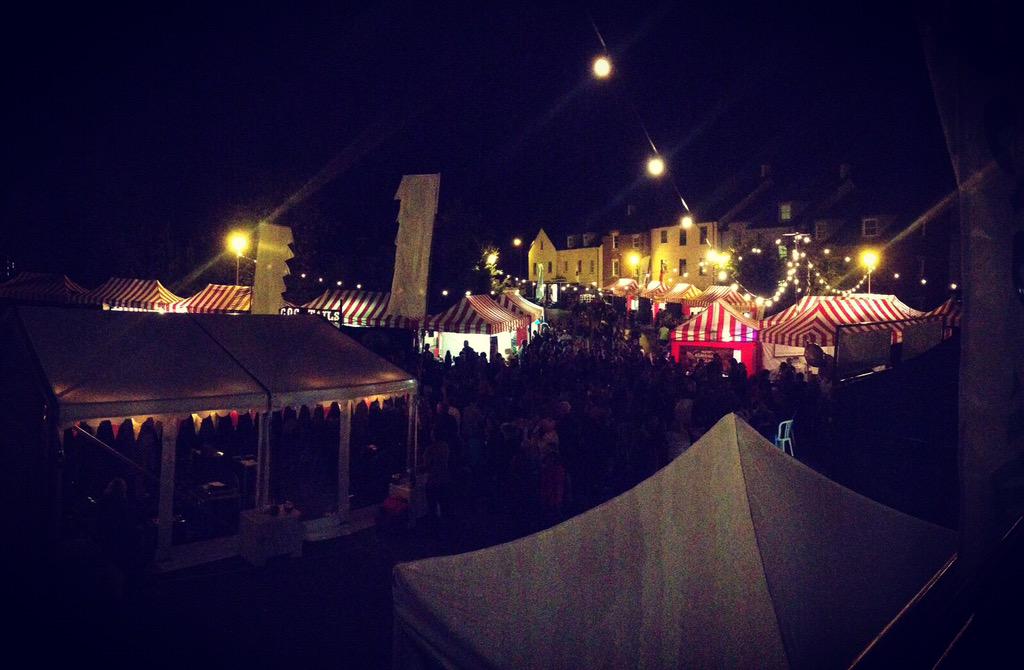 I said this last year, and I might have said it again last weekend several times, but I can never get over how huge the festival is and how much of the town it covers. I know they say it's one of the UK's biggest (and best, of course) food festivals, but when you're used to your local town half full even on a Saturday morning at its busiest, it's still a (very pleasant) surprise to see it so packed. Let's face it, Abergavenny is a town of two halves really – there are some lovely shops and places to eat, and there are very many empty shops and units. In that, it's no different from any other rural/suburban high street hit by out of town development, changing shopping habits and decreasing footfall. But, what marks Abergavenny out as different is the motivation and energy a small bunch of people have to really make a difference to the town, bring people in and get them spending and enjoying the place.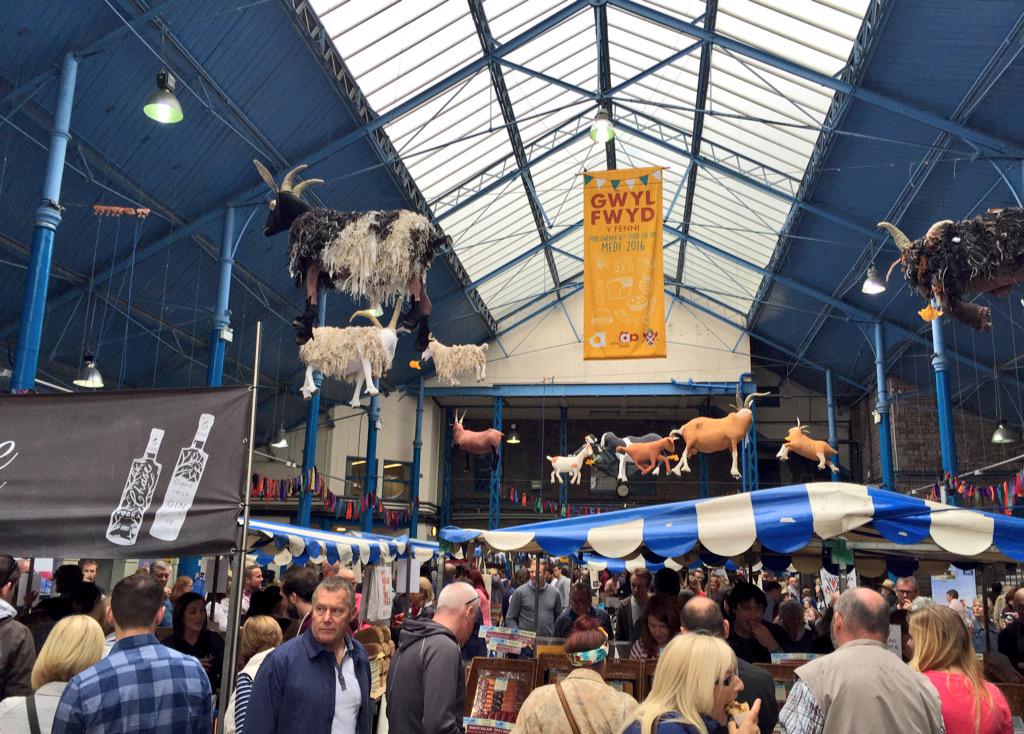 So, we got in there early on Saturday morning and spent some time wandering around the stalls, planning what we would come back to and try, what was on our list to buy. Then we'd booked ourselves in for a sourdough class with the baker Alex Gooch from Hay-on-Wye. I'd tried Alex's bread at the Hardwick, and had always commented on just how fantastic it was – chewy, with a great crust and a real depth of flavour.
Organised by the local cookery school, The Culinary Cottage, it was held in the Priory Hall in the centre of town and numbers were kept to around 16 to ensure we all had plenty of time with Alex. Now, I'll admit – I find sourdough complicated. I don't really understand the process for the starter, nor the feeding schedule, the temperatures, the whole complex, time-consuming business. Fortunately, Alex choose to do sourdough flatbreads which for a novice like me, is just about manageable. We put our pinnies on, mixed our ingredients, made a fantastic mess with the runny sourdough and eventually corralled the lot into an oiled bag to take home to bake. We then tried Alex's 'here's one I made earlier' version of flatbread – and my word, it's worth the effort. Topped variously with garlic oil, Hafod cheddar, pickled chillies, cumin and coriander, I don't think I need I'll ever be buying supermarket pizza again (I know, all the class…).
The next day – after a spell lying dormant in the fridge – I got my dough out, coralled it back out of its oiled bag and started rolling and cooking. It's not the easiest to work with, still being quite frankly a bit sloppier than other doughs I've worked with, but with plenty (and I mean plenty) of the polenta that Alex recommended, and after a bit of trial and error – seven of my very own flatbreads! In bad blogger style there are no photos of this process because at this point I was covered in a mixture of dough and polenta and couldn't have picked up the camera if I'd wanted to. So, you'll have to take my word for it – they were delicious (I didn't eat all seven – I did have the restraint to freeze some of them). Alex sent us all away with with our very own 11 year old starter which is now resting in the fridge before I recover sufficiently to attempt to resuscitate it and make some bread.
Back to the festival. We headed back over to the Castle area for lunch. More dough based products at the woodfired pizza stall? Yes, I was tempted but managed to hold back enough to go for Cafe Spice Namaste's goan potato curry with rice and onion bhajis, eaten in the sunshine by the castle walls.
After that we wandered around the market area and the brewery yard. We had to make beeline back to the bara brith stand, Baked by Mel. For my overseas or over-border readers, bara brith is a traditional Welsh tea-loaf, made with dried fruits, baked and eaten either as is or toasted, butter optional (but good). A great bara brith might look small but legitimately weighs around two stone. It should be dense in the best possible sense of the word.  I grew up on the stuff in North Wales, bought from the long-gone (and missed) Roberts' bakery in Mold, requesting it to take back to university every term when I was a student. Since moving here however, I haven't really found a good stand in. South Walian bara brith seems to be more cake-like, almost like a syrup sponge. Mel's is different however. This is bara brith as it should be – chock full of fruit, and heavy as a millstone. Extra marks for the lovely packaging and Richard Llewelyn quote.
After all that, it was time to head home, have a quick change and go back out again. The festival also runs fringe events outside of the main town festival site, and this year Feast with a Chef was bringing Michelin-starred chef Matt Gillan to our local village hall. Yes, previously only known for it's monthly film nights and location for the start of local fell races (other runners will know what I mean when I say race starts have a peculiar, yet unmistakeable, smell of embrocation, fear and toilets), it was perhaps not an auspicious beginning to a night. But, greeted by a glass of Ancre Hill sparkling and with the promise of a Michaelmas feast things were looking up. The village hall was decked out in bunting, with long tables laid communal-style, and importantly, no lingering smell of runners.
Michaelmas feasts are a tradition that we don't seem to have widely retained here in the UK, but historically, it was the time after the harvest when farmers and tenants would pay their annual rents, often sweetening their landlords with the present of a goose. Hence, the traditional Michaelmas feast is goose-based, and apparently, goose is best eaten at this time of the year (rather than Christmas) as it is fat from feeding on the stubble of the harvest.
I'm not quite sure how they achieved it, but out of the small kitchen of the village hall came five courses of delicious food. Celery sorbet, seared tuna, the goose (all parts used except for the hiss), berry dessert – accompanied by local wines, beer and cider.
We ended the night walking the couple of miles back home, walking off the sourdough, the bara brith, the goose, the Ancre Hill, and reflecting on just what a difference one idea carried out with energy, ambition and enthusiasm can make to a town.